2022 REEF Artists-in-Residence Fía Benitez (Art MFA 21) and Simone Zapata (Critical Studies MFA 21) recently joined the CalArts podcast series Beyond the Blue Wall to discuss their organization of the project Tense Renderings: the will and won't of spatial logics.
Benitez and Zapata spoke with Beyond the Blue Wall host Henderson Blumer, associate director of Engagement Programming at CalArts, about how they developed the residency project, the exhibition works, taking Tense Renderings into a digital space, and more.
"Reading was a big part of how we started out this project and how we grounded our conversations," Benitez said. "The way that we arrived at the title was culling from all of our notes and from readings, and then through conversation and putting some of that language together and trying to both encapsulate some questions we were grappling with in this project, while still leaving it pretty open-ended for other people to interpret and respond to …. Simone cut up and created a lot of different combinations of all these terms …. Then we put it to a lot of our peer group and people who were familiar with the project and what we're interested in, and in that process arrived at the title and subtitle."
Concurrent with the podcast episode's release is the launch of Tense Renderings' digital archive, showcasing works from the 14 participating artists: Jumanah Abbas, C. Bain (Art MFA 22), Amy Chiao (Theater MFA 22), Natan Diacon-Furtado, Jen D'Mello (Critical Studies MFA 22), Alexsa Durrans (Dance MFA 22), Christine Imperial (Critical Studies MFA 20), sj kim-ryu (Critical Studies MFA 21), School of Art Visiting Faculty Wesley Larios, Julia Sáenz Lorduy (Critical Studies MFA 22), Sonya Merutka, Amanda Teixeira (Art MFA 23), Sarah Sophia Yanni (Critical Studies MFA 20), and Bz Zhang.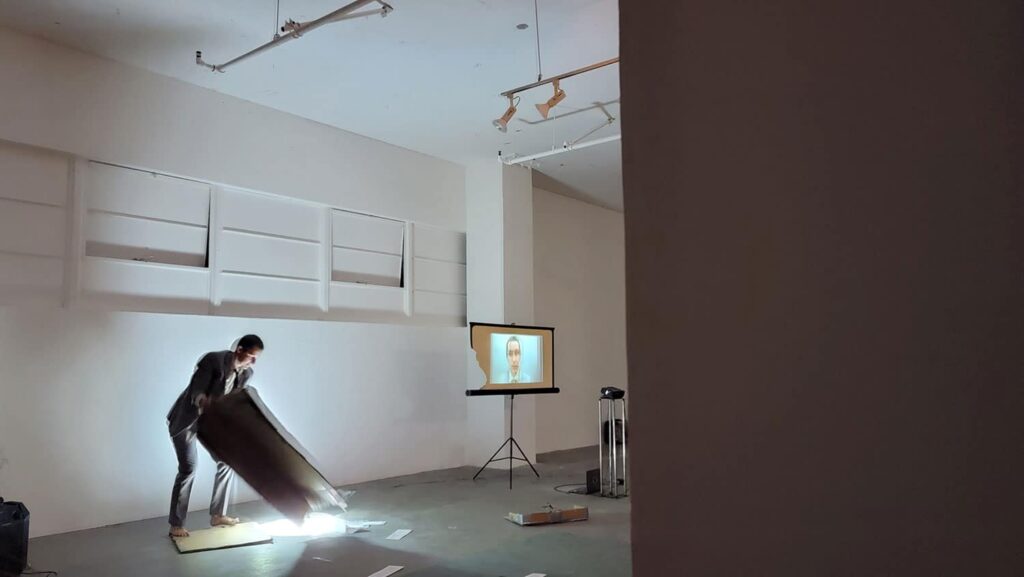 Benitez and Zapata also aim to share a series of conversations with the aforementioned artists, which they aim to publish in the spring.
"One of the exciting things about transitioning Tense Renderings into a virtual platform will be these conversations that we'll have," Zapata. "I think in lieu of getting to physically experience the piece in person as it was in the exhibition, we're now able to talk with the artists to poeticize their work and learn more about their process and how their work for Tense Renderings is influencing their current projects or discourse. So, in some ways, we're getting a deeper dive into Tense Renderings that I think we wouldn't have been able to get if we were just doing the physical exhibition."
Listen to the Beyond the Blue Wall episode below.
---