Editor's note: The article has been updated to reflect the exhibition's new closing date, and information about the closing reception in the event details.
---
CalArts alums scrutinize cartography—the study of making and using maps—in Tense Renderings: the will and won't of spatial logics, the 2022 CalArts REEF exhibition running from Friday, June 24 to Sunday, July 24 at The Reef in Los Angeles. 
Tense Renderings is co-organized by 2022 Artists-in-Residence Fía Benitez (Art MFA 21) and Simone Zapata (Critical Studies MFA 21). More about the show from the official announcement:
The exhibition interrogates the motivations, conditions, and limitations of maps and mapmaking. The range of works include axonometric projection drawing; feminist, communally-woven textile; speculative sea and space colonization; and interventions into legal language delineating exclusion and belonging.
CalArtians are among the show's 14 participating artists: Jumanah Abbas, C. Bain (Art MFA 22), Amy Chiao (Theater MFA 22), Natan Diacon-Furtado, Jen D'Mello (Critical Studies MFA 22), Alexsa Durrans (Dance MFA 22), Christine Imperial (Critical Studies MFA 20), sj kim-ryu (Critical Studies MFA 21), School of Art Visiting Faculty Wesley Larios, Julia Sáenz Lorduy (Critical Studies MFA 22), Sonya Merutka, Amanda Teixeira (Art MFA 23), Sarah Sophia Yanni (Critical Studies MFA 20), and Bz Zhang.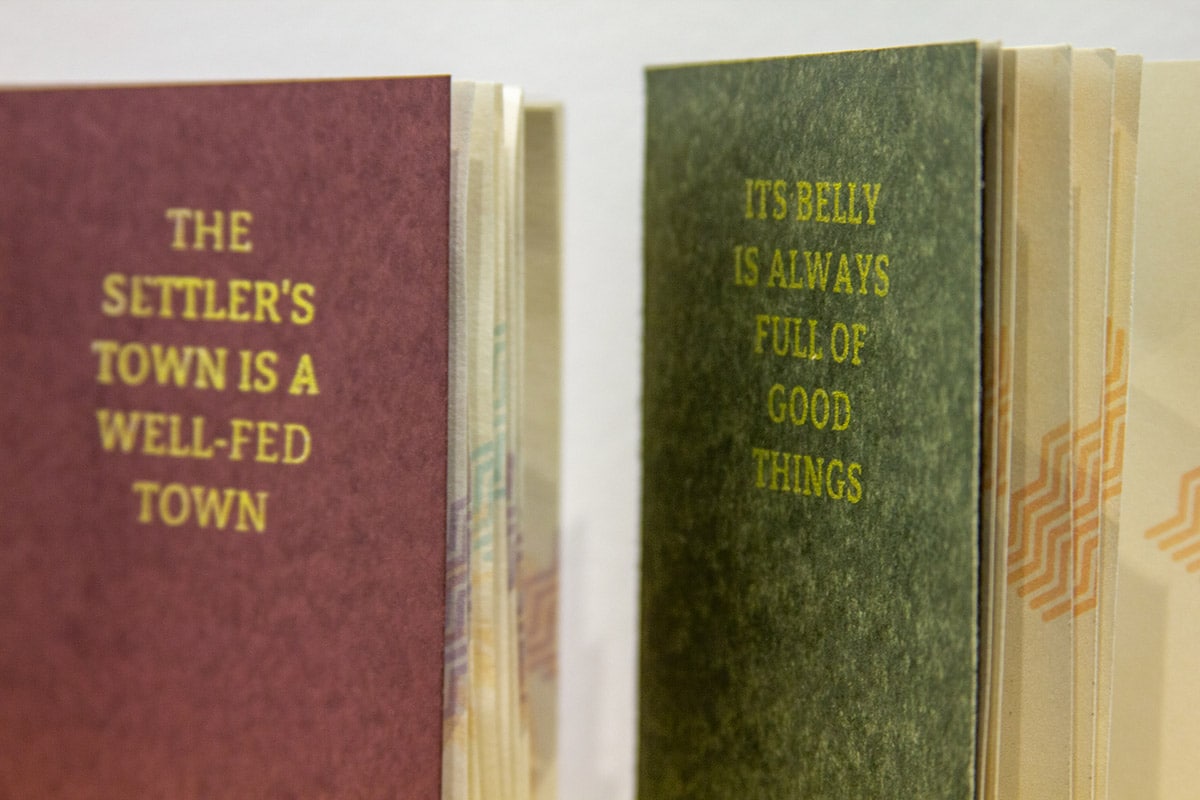 "We're really excited to cultivate new relationships with our broader artist communities, and also deepen existing relationships with our CalArts peers post-graduation," Benitez and Zapata shared with 24700. "Especially since so much of our physical community building was put on hold for the majority of our MFA education, it's invigorating and humbling to have the opportunity to gather and create in this capacity."
The exhibition kicks off with an opening reception on Friday, June 24 from 6-9 pm, featuring debut readings and performances from participating artists Bain, Yanni, and D'Mello.
Tense Renderings is open weekends and by appointment; reserve a spot through Calendly. The show is located on the 12th floor of The Reef in downtown LA. Upon exiting the elevator area on the 12th floor, turn left, then around the corner to Suite 1240.
The CalArts REEF Residencies launched in 2015, allowing recent graduates from the schools of Art and Critical Studies to apply for cost-free, shared studio and exhibition space, and a small grant award to support their work over the residency period.
---