A contemplation of well-being and sustainability, School of Art faculty Shirley Tse's current exhibition at Pasadena City College (PCC), Portal, Virus, Arctic, is on view now until Friday, Nov. 17. 
Created during Tse's time as a PCC Artist in Residence (AiR), the show is centered on a 10-foot long free-standing sculpture titled Quantum Shirley Series: Meditating is Porting to a Blissful Version of Ourselves, originally made for an exhibition commissioned by the Wellbeing Project in Bilbao, Spain. The piece is a visualization of the multiplicity of experiences that occur within one body during meditative states. Shaped like a portal, the sculpture connects the invisible with the visible. There are five circular disks that can be interpreted as the five kinds of brainwaves (gamma, beta, alpha, theta, and delta), or the five elements in Tibetan prayer flags.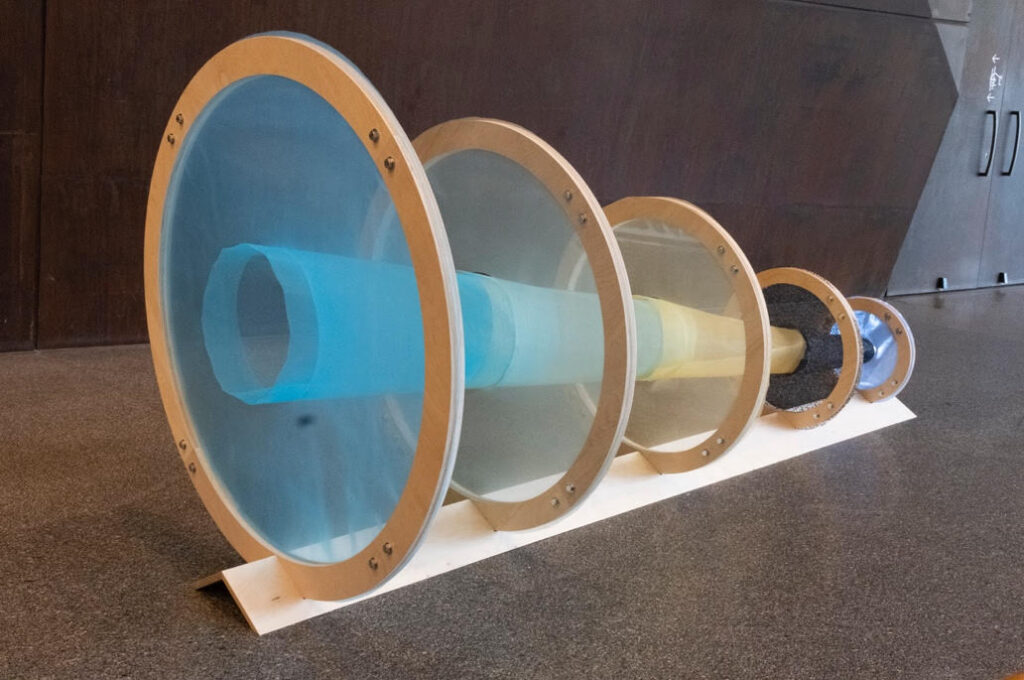 Tse's solo show also features a series of sculptures made from found materials as well as a video piece, The Arctic Circle, which demonstrates the artist's commitment to and exploration of the concept of "degrowth" and how to minimize impact on the environment. In The Arctic Circle, Tse engages with the idea of what a "Do Nothing" art project looks like. 
Born in Hong Kong, Tse's art practice spans the media of sculpture, installation, photography, and text. Her work has been exhibited at venues worldwide, including: MoMA PS1, New York; the New Museum, New York; San Francisco Museum of Modern Art; the Art Gallery of Ontario; and M+ Pavilion, Hong Kong; among others. At the 58th Venice Biennale, Tse was the first female artist to represent Hong Kong in a solo exhibition. 
---