On Sept. 9, the Resonance Collective holds its inaugural Los Angeles Global Music Festival at the First Congregational Church of LA in Koreatown. Co-produced by Artistic Director Fahad Siadat (Music MFA 09, DMA 20) and curator Craig S. Hyman, the one-day festival features a diverse group of musical performances and workshops.
Featured artists include the Inuit soul group Pamyua, Aztec-Toltec band Eres Medicina, Indian classical singer Kamini Natarajan, and Brazilian singer-songwriter Caro Pierotto. A full schedule of workshops and performances is available on the festival website.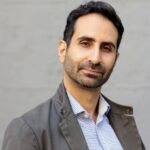 "The Resonance Collective's mission is to explore how artists from different cultural perspectives reinvent how we define sacred music today," Siadat said. "LA's rich cultural and spiritual diversity makes it both easy and important to give a platform to the sacred and global music already in the scene."
The first half of the festival will be dedicated to workshops, an opportunity that Siadat says will help audiences "experience these traditions first hand from the inside, and in a welcoming, introductory environment."
A multidisciplinary artist whose work explores the intersection of the creative and the spiritual, Siadat is also the director and a singing member of the new LA-based vocal sextet HEX.
Siadat has performed solo and with artists and groups including The Industry, PARTCH, Theater Dybbuk, Rosanna Gamson Dance, Monmouth University, Jacksonville Dance Theater, California EAR Unit, TOCCATA Orchestra, Toby Twining, Daniel Lentz, and WildUp. His music has been performed across the United States, Europe, and China.
He helped found the Resonance Collective in 2021 to further highlight and embrace the intersections of culture, art, and the sacred. The collective has three divisions: the creative Original Works program; the curatorial Golden Thread Concert Series; and the educational N.E.O. Voice Festival. A product of these branches, the collective premiered the acapella oratorio The Conference of the Birds in June 2022, with music by Siadat.
— by Ishika Muchhal
---