CalArts alum Gala Porras-Kim (Art MFA 09) considers the uncertain histories of ancient artifacts while charting new futures in Gala Porras-Kim: The weight of a patina of time, a new exhibition at the Fowler Museum at UCLA. Featuring five of the artist's research-based projects, the show runs from July 9 through Oct. 29, and is preceded by the show's opening presentation and reception on Saturday, July 8.
Featuring Porras-Kim's original drawings, sculptures, and installations, as well as items from the Fowler's own collection, the large-scale and smaller works in The weight of a patina of time address the difficulties in "maintaining knowledge over centuries in shifting institutional contexts." Several of the works are inspired by and respond to Mexican archaeology, ranging from objects found at a sinkhole in the Yucatán to stones excavated from an ancient pyramid. More about the exhibition from the Fowler's press release: 
Porras-Kim's research-based practice looks closely at the layered meaning of objects in the 21st-century museum …. The works on view reflect the artist's affinity for fragments, conflicting histories, undeciphered texts, and other instances of uncertainty within the space of the museum.
"The weight of a patina of time reflects on the visible and invisible structures of the working museum, through its methods of conservation, registration, and display," Porras-Kim was quoted in the Fowler's press release. "These become an institutional patina that weighs on the understanding of objects in the collection over time. All of the histories related to the object become additive elements that are considered as subjects of this show."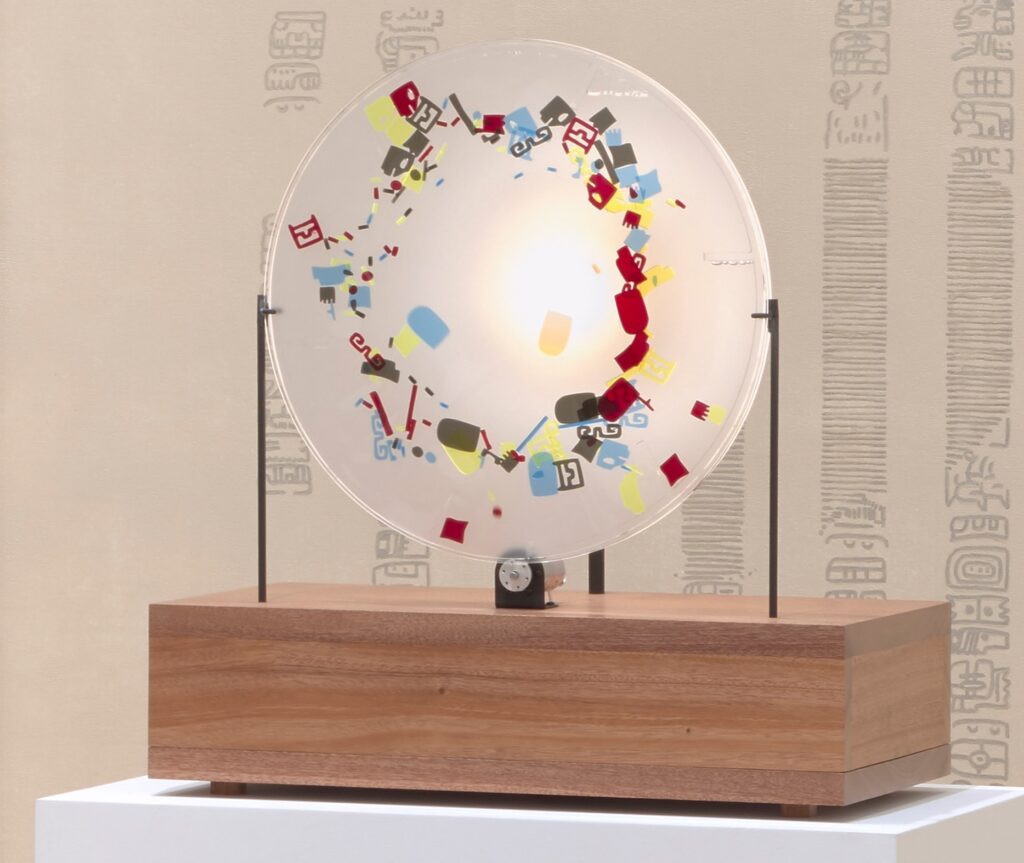 Porras-Kim worked closely with Matthew H. Robb, the Fowler's chief curator, in preparation for the show. Robb, a specialist in ancient Mexican art and archaeology, shares with the artist an interest in the "cyclical nature of knowledge—its creation, maintenance, decay, and recovery in ancient and modern institutional contexts."
Gala Porras-Kim: The weight of a patina of time, encompasses the following projects:
Reconstructions (2016), an installation of reconstituted fragments;
Three works dedicated to Mesoamerican writing, including a kinetic sculpture;
Precipitation for an Arid Landscape (2023), a copal and mixed-media sculpture;
254 offerings for the rain at the Peabody Museum (2021), a section in which visitors can explore Porras-Kim's research and documentation about the Sacred Cenote at Chichen Itza;
Proposal for the reconstituting of ritual elements of the Sun Pyramid at Teotihuacan, a recreation of two stones (or stelas) formerly excavated from the pyramid;
And temporal stowaways, a collection of objects in the Fowler's storage curated by Porras-Kim and Robb.
Admission to the Fowler is free.
---