On the evening of May 24, CalArts President Ravi Rajan accepted a Posse Star, awarded by the Posse Foundation at their annual "Evening of the Stars" gala in New York City. The Institute was among the three schools that launched the foundation's newest initiatives, Posse Arts—of which CalArts is the originator—and Posse Puerto Rico.
The Posse Foundation annually selects honorees ranging from Posse alums, leadership from Posse partner schools, and changemakers in their respective fields. This year, President Rajan was honored alongside University of North Carolina School of the Arts Chancellor Brian Cole; songwriter, filmmaker, and playwright Lin-Manuel Miranda; political strategist and philanthropist Luis A. Miranda, Jr.; and author and Vanderbilt University Posse alum Ilona Bannister. The evening was emceed by 60 Minutes and CBS correspondent Lesley Stahl, who also serves on The Posse Foundation National Board of Advisors.
"I was at SUNY Purchase before I came to CalArts," Rajan reflected in the foundation's gala star video spotlight (watch below). "I thought at the time, 'Wouldn't it be great to have an Arts Posse where, regardless of what art form that they're choosing, they have this commonality in terms of leadership?'"
This idea was finally brought to fruition this past fall, when the Institute welcomed its inaugural Arts Posse Scholars, also referred to as the "Posse 11":
Ivan Nunuz, School of Art
Frances Sheehy, School of Art
Evan Ferguson, The Herb Alpert School of Music
Jaylin Rosado, The Herb Alpert School of Music
Khai Umstead, School of Film/Video
Richecia Henry, School of Film/Video
Menelik Lee, School of Film/Video
Madison Dorsey, School of Film/Video
Amara Mancia, School of Film/Video
Shyteek McLeod, School of Theater
Rileigh McDonald, School of Theater
Rosado (Music BFA 26), a current VoiceArts student, presented a performance of Lin-Manuel Miranda's work at the gala.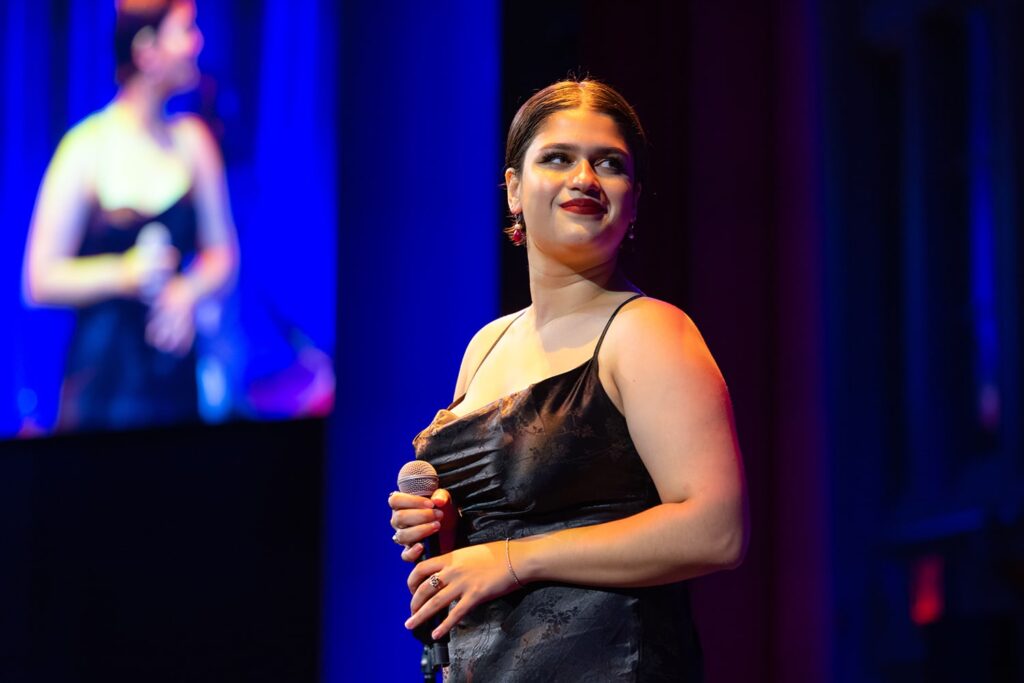 The Posse Foundation responds to the notion that, while talent and aptitude is equally distributed among the population, opportunity and access are often not. The program creates pathways to higher education for talented students who might be missed by conventional channels and supports their studies while assembling a cohort of their peers. The CalArts initiative in particular aims to create artistic leaders who seek to shape new models of the future and, in line with the Institute's mission statement, transform themselves and the world at large through their work.
"Posse has really allowed for there to be a community for students who continue to be underrepresented at CalArts and in higher education," said Associate Vice President of Campus & Residential Life Taso Dimitriadis. "Having a community of individuals who come from a background relatable to your own, people who understand you and look like you and have similar values and humor and perspectives about the world around them—all of those different things contribute to a person's ability to be successful. We're all looking for a place to fit in, to be ourselves. No more so than at an art school, where we're trying to be the most authentic version of ourselves."
Andrew Grueschow, the co-director of the World Music Performance specialization in The Herb Alpert School of Music, serves as a faculty mentor to the first CalArts Posse. He meets with the Posse as a group once a week, and every other week on an individual basis.
"During their first year, Posse scholars embedded themselves in the CalArts community by working with the Student Union, being active in their respective schools, and taking a leadership role in the Posse Plus Retreat (a two-day event in Ventura that was a facilitated discussion around "Truth and Consequences")," Grueschow shared in an email interview. "In addition, some scholars are taking active roles in reaching out to programs to suggest new ideas about curriculum and opportunities for future first year students."
As they enter their second year, the weekly group meetings will be led by the scholars themselves, who will also begin working with the incoming cohort. Though these regular meetings will end upon the completion of the second year, Grueschow explained that he will still be available to provide guidance as the first class' mentor.
Filmmaker and inaugural Arts Posse student Richecia Henry (Film/Video BFA 26) offered encouragement to CalArts' next cohort, who will begin their own educational journey this fall.
"Your posse is a big and very important support system, but you will and should make connections outside of your posse," said Henry. "Everyone in my posse has a different experience here at CalArts simply because it is whatever you make it. You have a space to work diligently, socialize, be a leader, get some rest, be an artist, or learn something new. It's all about your mindset and what you want from this school."
---