The Annie Awards returned to an in-person ceremony for its semicentennial this past weekend, bringing emerging talent and luminaries alike from all corners of the animation industry to UCLA's Royce Hall. As in years past, CalArtians earned awards across categories, as well as juried honors.
In the Best Music in an Animated Feature Production category, Patrick McHale (Film/Video BFA 06) was awarded alongside Alexandre Desplat, Roeban Katz, and Guillermo del Toro for their work on Guillermo del Toro's Pinocchio.
The June Foray Award, one of the Annie's five juried awards, is given to those who have made a "significant and benevolent or charitable impact" in the animation world. The 2023 recipient is School of Film/Video faculty Mindy Johnson, presented by ASIFA-Hollywood President Sue Shakespeare. A 2019 Academy Film Scholar, Johnson was honored for her groundbreaking discovery of the work of Bessie Mae Kelley, now credited as the creator and director of the earliest animated works by a woman.
Johnson expressed gratitude for recognition of "not just my work, but the work of thousands of women who've never had their names or voices heard. And it's a strong mark to know that this industry is recognizing that things are changing, but we still have change ahead."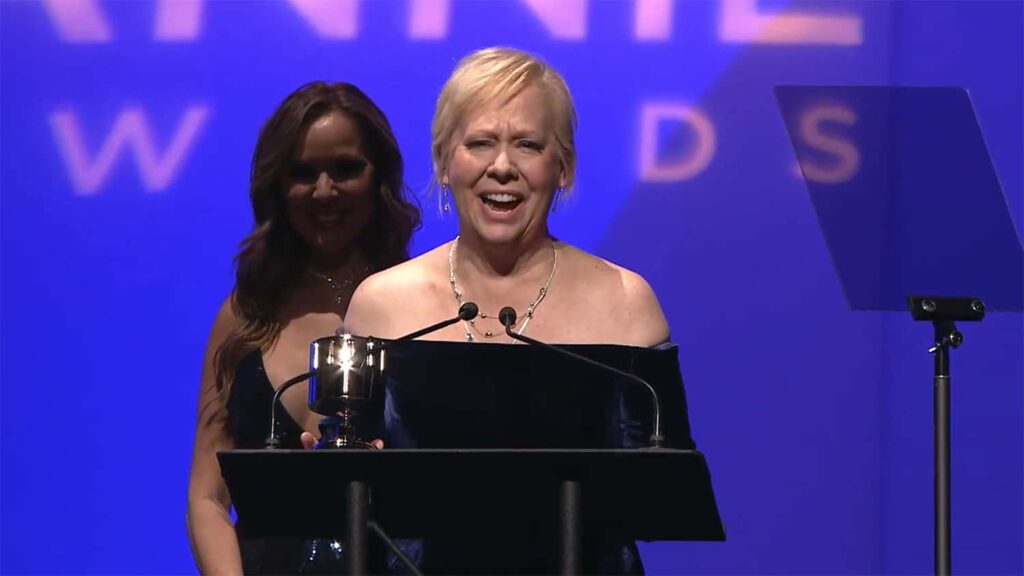 Two of three juried Winsor McCay Awards were bestowed upon CalArtians this year: Craig McCracken (Film/Video 92) and Pete Docter (Film/Video BFA 90), as well as Evelyn Lambart, the first woman in the National Film Board of Canada's animation section.
McCracken was introduced by his wife, My Little Pony: Friendship Is Magic creator and fellow CalArtian Lauren Faust (Film/Video 95). Faust noted that she was first introduced to him at CalArts when her freshman class viewed selections from the previous year's Producers' Show, which included McCracken's short "Whoopass Stew!" (1992). McCracken went on to create beloved series like The Powerpuff Girls, Foster's Home for Imaginary Friends, Wander Over Yonder, and Kid Cosmic.
"I've always wanted to be in a band …. I wanted to be a part of the magic that happens when a group of talented people get together and use their powers and abilities to create something new and amazing that the world has never seen before," said McCracken. "And for the past 30 years in this industry, I have had the incredible fortune to do just that."
Watch McCracken's full acceptance speech below.
The Walt Disney Company COO Bob Iger presented Docter's Winsor McCay Award. While outlining his illustrious career, Iger mentioned Docter's studies at "the prestigious CalArts," where he created his Student Academy Award-winning film "Next Door." Docter's credits span many Pixar classics like Monsters, Inc. (2001), Up (2009), and Inside Out (2015), and more recently as the director and writer of Pixar's Soul, which won Best Animated Feature Film at the 93rd annual Academy Awards.
Docter reflected on his career during his acceptance speech: "It puts me in a strange state of mind, because I look back at the work I've done, and I can't quite figure out where it came from. I was there for every major decision, and yet somehow the work kind of has a life of its own …. However it worked out, I'm very grateful that those ideas chose me."
The Annie for Best Storyboarding – TV/Media went to Emily Dean (Film/Video 13) for the Love Death + Robots episode "The Very Pulse of the Machine." Inspired and named by the Hugo Award-winning sci-fi short story by Michael Swanwick, the episode follows Martha Kivelson, an astronaut stranded on Jupiter's innermost Galilean moon Io.
"It was daunting to make this piece, 'The Very Pulse of the Machine,' and it was no easy task," said Dean. "It was very personal for me."
Read more about Dean's direction of "The Very Pulse of the Machine" in issue 11 of The Pool, and watch her acceptance speech.
Marcel the Shell with Shoes On won the Annie for Best Indie Feature, with animation director Kirsten Lepore (Film/Video MFA 12) and supervising animation director (and School of Film/Video faculty) Stephen Chiodo joining writer Nick Paley, actor Jenny Slate, and other members of the team on stage. Slate, who voiced the titular shell, praised Lepore's contributions during her own acceptance speech for Voice Acting in an Animated Feature Production: 
This performance, I'm really only half of it. The other half is Kirsten Lepore. She has to do everything—not just this beautiful animation, her nuanced and warm work, but she has to act as well, and she doesn't get to be in a body. She has to make it all up. It's just true sorcery, it's true talent, and I'm here tonight being accepted by your community because of Kirsten's beautiful work.
Watch the full 50th Annie Awards on ASIFA Hollywood's YouTube channel, and see the full list of winners on the Annie Awards website.
---