Four decades of photographic work by Gail Rebhan (Art MFA 81) are on display in About Time, her first museum retrospective at the American University Museum in Washington, DC, running now through Sunday, May 21.
Presented as part of the Alper Initiative for Washington Art, the show depicts Rebhan's confrontation of photographic norms by "reconfigur[ing] the time-slicing" quality of the medium. Over the course of her career, the artist has documented the "macro-and-micro-dynamics" within her own family and in others, as well as the marks of time on her own body. These themes are reflected in her signature photo collages that she began assembling in 2009, capturing the cultural history of her local DC neighborhood and beyond, and revealing the transformation of locales throughout the United States.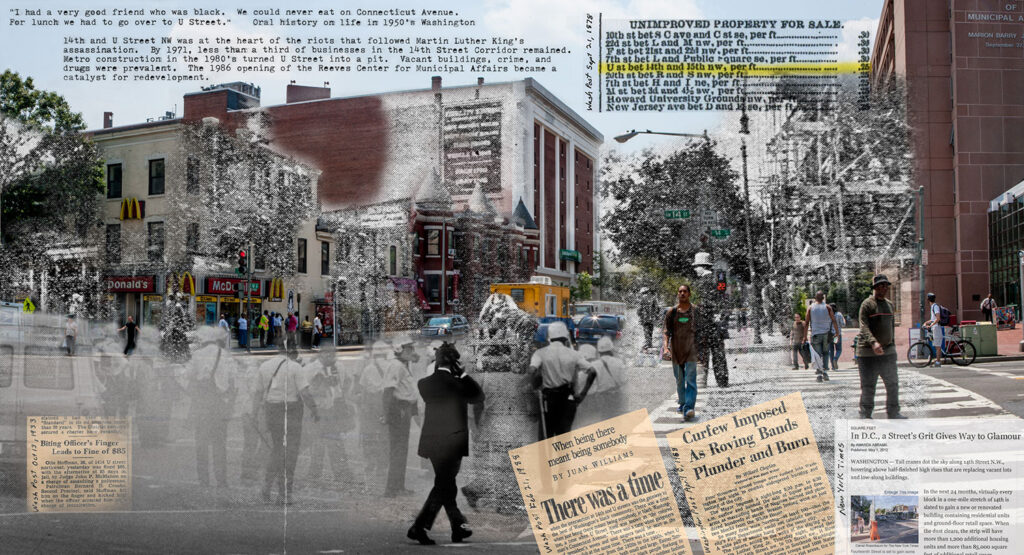 About Time is curated by Sally Stein, who Rebhan met in the 1980s at the Rochester, New York, arts organization Visual Studies Workshop. In the decades that followed, the pair remained in touch, bonding over "shared interests in feminism and critical modes of thinking and seeing." Stein is also credited as an editor on Gail Rebhan, About Time, an accompanying photobook published by MACK Books. More from the publisher: 
Led by Stein's insightful and often humorous commentary, this book charts Rebhan's unique artistic and political progressions, from early works using serial snapshot photographs to track the repetitive actions of domestic life through to wider-reaching studies of gentrification and inequality her home city of Washington, DC. The publication culminates with her most recent series, which examines the ways her own body bears the marks of time that women especially have learned to fear. Among the incisive, inquisitive, and politically engaged work in this collection, Rebhan's consistent rejection of photography's affiliation with stillness and silence in favour of sequence and transformation reveals time itself as the artist's perennial muse.
The museum has also organized three upcoming gallery talks in conjunction with About Time:
Rebhan is a Washington, DC-based photographer whose work humorously investigates time and change, often through the lens of the American middle class with which she identifies. Her work has been exhibited at the Lentos Kunstmuseum, Linz, Austria; American University Museum-Katzen Arts Center, Washington, D.C.; and Blue Sky Gallery, Portland, Oregon. She is a professor emerita of photography at Northern Virginia Community College.
---