Originally developed and commissioned by CalArts Center for New Performance and multiple iterations at CalArts, REDCAT, and other venues, Dahlak Brathwaite: Try/Step/Trip is at The Wallis Annenberg Center for the Performing Arts' Lovelace Studio Theater in Beverly Hills, California, for four shows from Thursday, Feb. 2 through Sunday, Feb. 5. The spoken-word musical rooted in step dance is composed by Dahlak Brathwaite and co-directed by Brathwaite and Roberta Uno, who also did dramaturgy for the show.
The show's cast includes Brathwaite and CalArtians Jasmine Gatewood (Theater MFA 18), Frederick Ramsey Jr. (Theater MFA 18), Max Udell (Theater BFA 18), and special guest performer Isaiah Lucas. Additional alums on the creative team include choreographer Toran Xavier Moore (Theater MFA 17) and lighting designer Briana Pattillo (Theater MFA 19).
Try/Step/Trip combines characters, poetic verse, music, dance, and movement to tell the story of an anonymous narrator reimagining an experience in a court-ordered drug rehabilitation program. Inspired by Brathwaite's personal history, the 80-minute show tackles racism, addiction, and the criminal justice system in a way described by Sacramento News & Review as, "breathtaking, and chilling … ripping through your mind with just a microphone."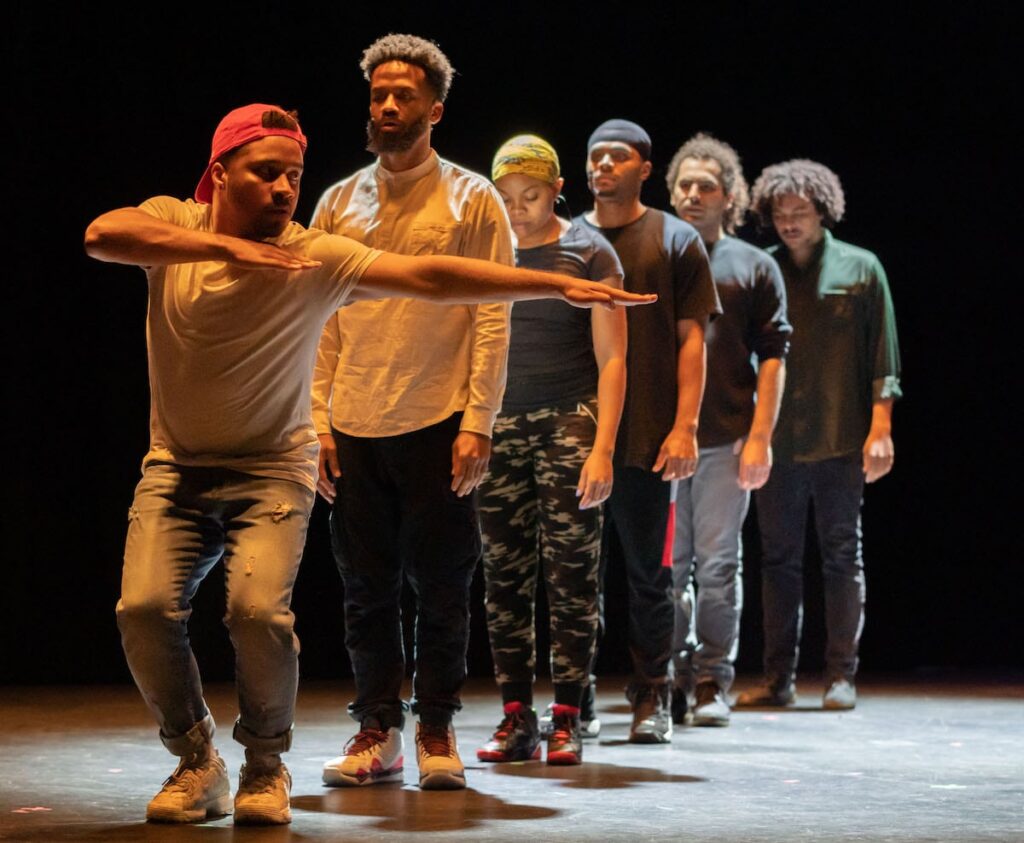 The performances at The Wallis are built on multiple renditions and collaborations by Uno and Brathwaite. Uno previously collaborated with CalArts on the ArtChangeUs program from 2015 to 2020 to create a network of artists, idea producers, and organizations to bring unheard leadership voices to the forefront of social discourse, arts production, and community change.
Ramsey Jr. has been seen on stage and screen, including on NBC's This is Us, Netflix's Family Reunion, and AllBLK's A La Carte. He has been a part of Try/Step/Trip for many renditions, bringing with it the opportunity to understand his identity better.
"Try/Step/Trip is a show that has given me a way to express my experience growing up in East Baltimore, while also connecting me to the sometimes shared experience of Black people in all of America," Ramsey said. "It gives me a way to express my individuality as a human while still allowing me to take pride in my 'societal blackness.'"
Udell has worked on multiple films as an actor and voice artist. He said he feels lucky to be a part of this piece since its inception.
"I have really loved watching it change and grow over time," he said. "After some healthy time workshopping it, we've arrived at a really special place. I have friends who've seen the show five or six times and still keep coming back, saying how they keep finding new meaning in the living poetry of it all. The Wallis is a gorgeous space, and I'm thrilled to be able to step on stage again to tell this story!"
Tickets are available online, ranging from $40 to $50.
—Ishika Muchhal
---