Students and alums from CalArts' The Sharon Disney Lund School of Dance, The Herb Alpert School of Music, and the School of Theater weave mythologies and storytelling traditions from around the globe in MAKOR, an interdisciplinary dance performance taking place on Thursday, Jan. 12 and Friday, Jan. 13 at Stomping Ground LA in Los Angeles.
Helmed by Livya Howard-Yashar (Dance MFA 23), who is credited as the work's choreographer, musical director, and dancer, MAKOR offers a cross-cultural exploration of Jewish, Chinese minority, and Afro-Cuban folklore and mythology. Ignited by a desire to seek healing and joy in the face of the pandemic, Howard-Yashar recalled Clarissa Pinkola Estés' Women Who Run with the Wolves, which she'd come to associate with resilience when reading it some 15 years ago.
Howard-Yashar further discussed the show's conception and creative process in a recent email interview with 24700:
I have always believed in the healing power of storytelling and remembered how valuable the messages within the tales were and still are to me. The focus of my academic background during my undergrad years was mainly ethnographic studies, specifically in regard to music and dance cultures, and is still a major influence on my work as a creator. I knew I wanted to carve out more space for this part of my life to express itself further, so rather than simply retelling my favorite tales from within the book, I felt it would be more personal to choose completely different stories from cultures with which I have had particularly strong ties on an ancestral and artistic level.

The process of creating the work took a lot longer than I had planned for, as I knew I would be focusing on three distinct and very different cultures, each representing three different female archetypes that embody my personal experience of resilience, particularly over the last three years. These being, staying close to family/holding on to and engaging in cultural traditions, maintaining my sense of sisterhood and collective creation, and lastly, reconnecting to an organic state of pleasure and joy.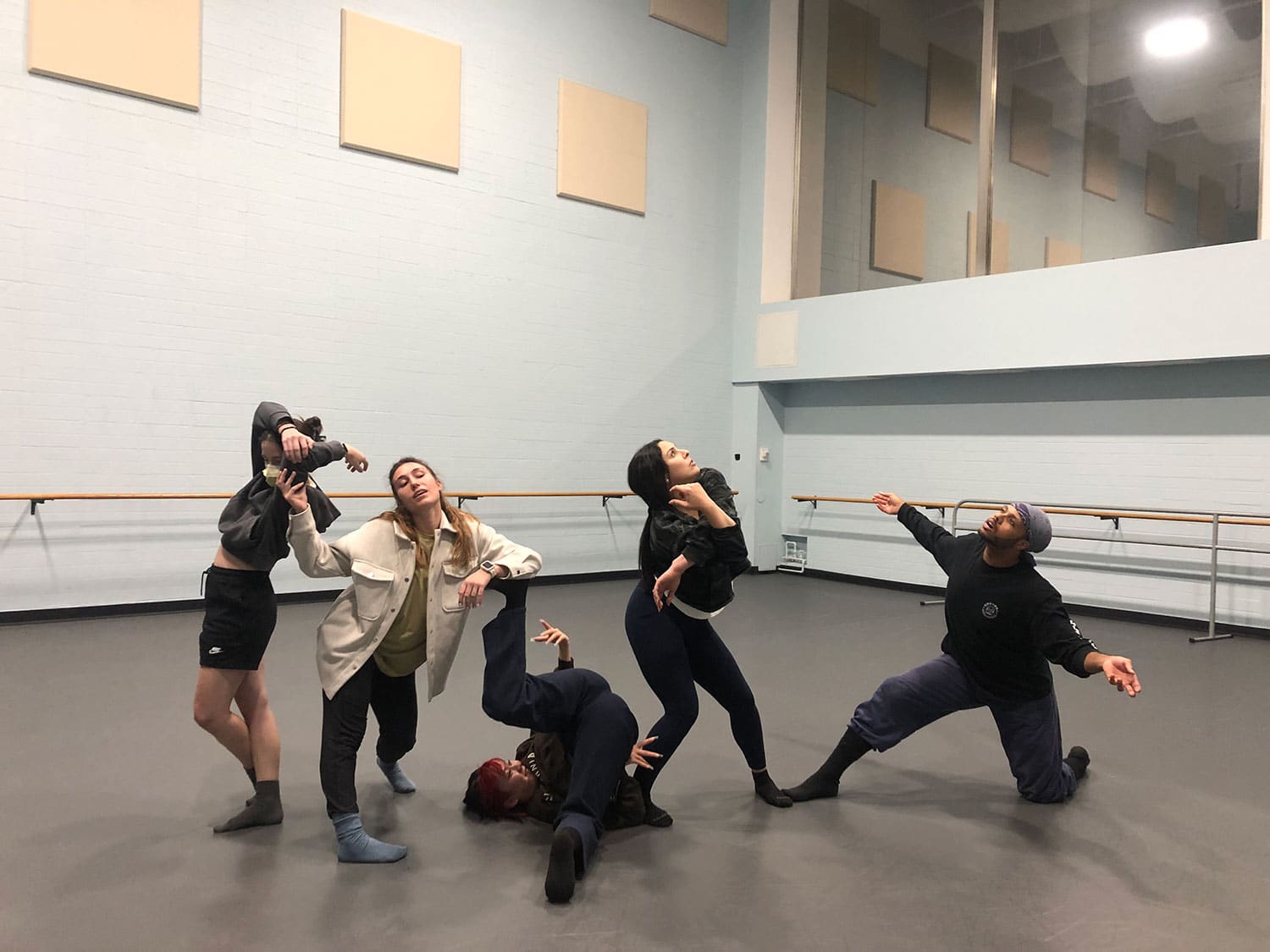 Despite initial trepidation about taking on the role of musical director alongside choreographer and performer, Howard-Yashar assembled a formidable cast and crew from across CalArts schools and disciplines, who joined the production at different stages. She lauded the ensemble's ability to connect with the material, even if they weren't immediately familiar with the cultures and stories explored in MAKOR.
"It was always a goal for this project to offer a learning experience for all the participants involved and audience members as well, to gain insight and exposure to music and dance cultures to which they may not have been previously exposed," said Howard-Yashar.
Numerous CalArtians lent their talents to MAKOR, both on stage and behind the scenes:
Performers
Liessa Son (Dance BFA 21)
Robert S Kelly II (Dance MFA 22)
Yunni Lin (Dance BFA 22)
Alicia Brendel-Chai (Dance BFA 22)
Lauren Wisdom (Dance MFA 21)
Meng-Hang Shih (Music MFA 24)
Aashray Harishanker (Music MFA 22)
Yenju Chen (Music MFA 24)
Joseph Dockery (Music BFA 23)
Emma-Rose Bauman (Music MFA 25)
Menghe Jing (Music MFA 23)
Creative/Production Team
Choreographer/Director/Musical Director: Livya Howard-Yashar (Dance MFA 23)
Scenic Designer: Woori Kim (Theater BFA 2023)
Assistant Scenic Designer: Jennifer Park (Theater BFA 24)
Assistant Scenic Designer: HongJu Lee (Theater BFA 25)
Costume Designer: Qingwen Cao (Theater BFA 24)
Lighting Designer: Claire Chrzan (Theater MFA 23)
Sound Designer/Consultant: Aashray Harishankar (Music MFA 22)
Producer/Production Manager: Katherine Paez Froehlich (Theater MFA 23)
Stage Manager: Cassy Sottile (Theater MFA 24)
A reception will follow the Jan. 12 performance, and a Q&A with Howard-Yashar will be held after the Jan. 13 performance. Members of the CalArts community can use discount code MAKORCIA at checkout.
---