Sculptures by CalArts School of Art visiting faculty MPA appear to transform in the sunlight in The Heavy Light Show, a group show at Night Gallery North in Los Angeles concluding at the end of this week. She will also present her solo performance Fire for Water this weekend at the Gessnerallee Theater in Zürich.
Running through Saturday, Oct. 22, The Heavy Light Show "brings together sculptures and installations from divergent practices, allowing natural light to exist as a unifying force and a silent collaborator with each artist." The color of each work in the exhibition changes throughout the day as a result of the sunlight, creating an immersive experience in which otherwise stationary objects appear to assume new forms.
MPA is among the nine artists whose works are included in the show; her contributions, aluminum and lapis lazuli sculptures Alpha (2019) and Omega (2019), were previously included in MASS MoCA's show Suffering from Realness.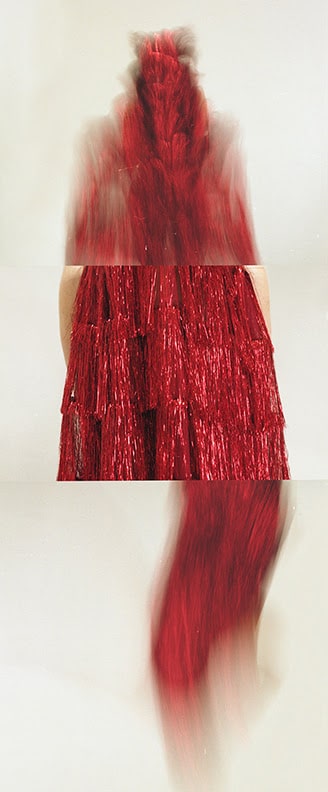 Coinciding with the end of The Heavy Light Show is MPA's performance Fire for Water, running Friday, Oct. 21 and Saturday, Oct. 22 in the eastern hall of the Gessnerallee Theater in Zürich. More about the performance from Gessnerallee Theater:
A meditation on human violence and the possibility of transformation, Fire for Water is a new solo performance by Los Angeles based artist MPA. The duality of fire as a force of both creation and destruction is a metaphor that burns throughout the piece, igniting the complicated entanglements between wounds and armaments, protection and oppression, spectacles and wars. Led by an original soundtrack, the piece enacts a dream-like space where different visions appear. Water vessels, armors, fires, and telepathic means are characters in a story that unfolds across different modes of being. Speaking to the wounds that inhabit us, self-armaments are undone, leaving space to the desire to be wet and to be with water.
The Friday performance will be followed by a discussion between MPA and artist, philosopher, and writer Snejanka Mihaylova.
---