CalArts Center for New Performance (CNP) kicks off its 20th anniversary season with the world premiere of its latest work Scene with Cranes, an "exquisitely visceral" work written by acclaimed playwright and former CNP resident artist Octavio Solis and directed by School of Theater Assistant Dean Chi-wang Yang (Theater-IM MFA 07). The show, developed under the Duende CalArts initiative, runs three consecutive evenings starting Thursday, Sept. 29 at REDCAT in downtown Los Angeles.
Scene with Cranes follows Lourdes (played by Duende CalArts Director and faculty Marissa Chibás), the mother of a close-knit East LA family who seeks truth by retracing the final steps of her youngest son, who died under mysterious circumstances. Yang's direction, which "navigates the many avenues of loss," accompanies Solis' script paralleling Finnish composer Jean Sibelius' "musical masterwork" from which the production takes its name.
Solis and Yang both discussed Scene with Cranes on the CNP podcast in February of this year, shortly after wrapping up a three-week workshop for the play (listen below).
"I went home and I rewrote the work some more, and we were going to workshop it again and produce it with you, Chi-wang, at the helm, but the pandemic hit, and so everything went on hold for almost two years, but here it is," Solis said of the workshop's immediate aftermath. "The pandemic is still with us but somehow, we are opening up the doors again and finding ways to continue developing and producing theater."
"One of the things that first struck me when I read the script was that the world is so much a world in transition and in transformation," Wang noted of Solis' work. "It starts in a very intimate kind of place of transformation—transformation between the relationship of a mother to her daughter, a son to his parents. And then it starts to expand out and it becomes, the story is also about a transformation of generations, and the powers, the histories, the traumas and the aspirations between the generations."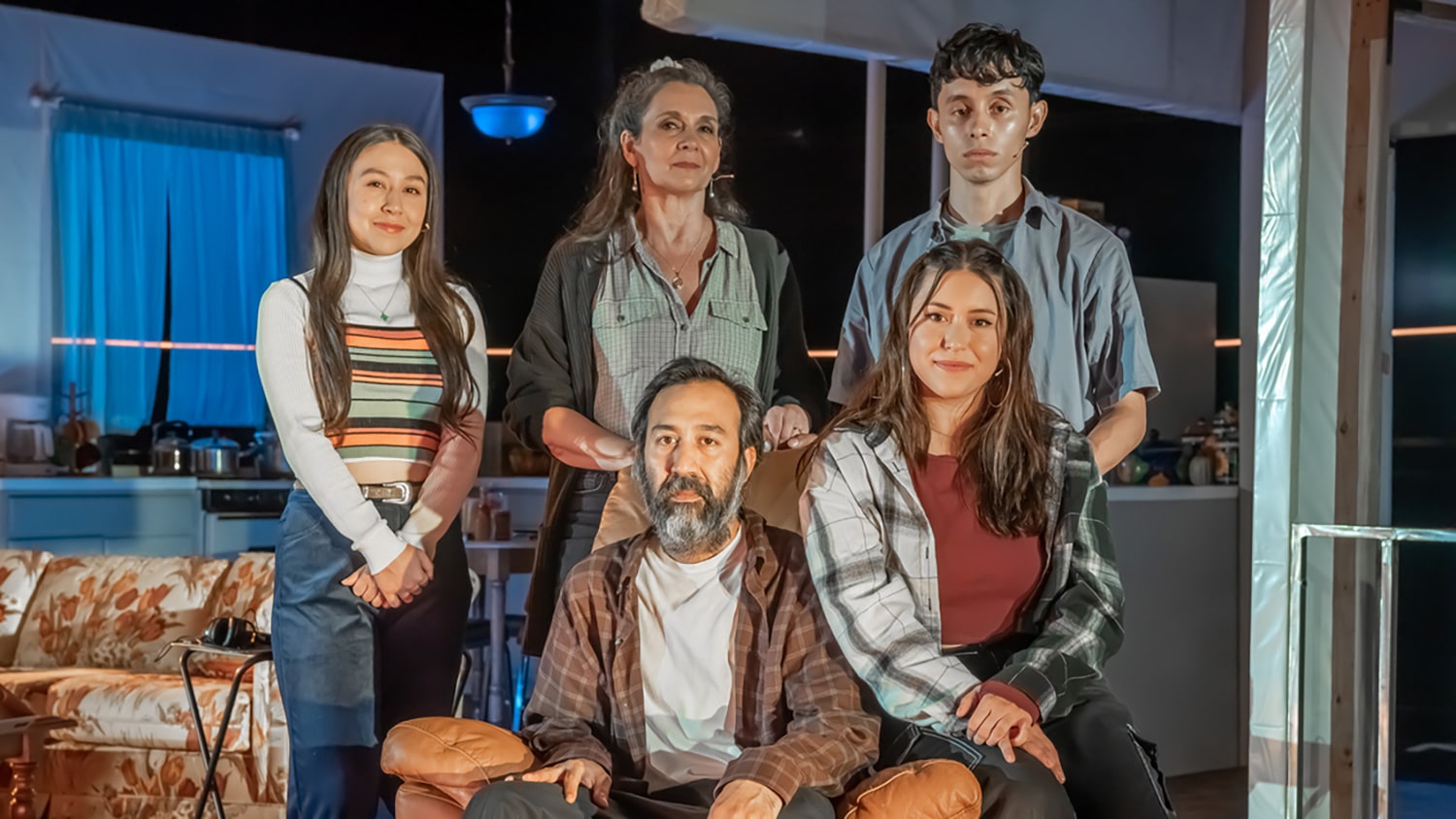 Numerous CalArtians lent their talents to the production, across both the cast and creative team.
Cast
Creative Team
Efren Delgadillo Jr. (Theater MFA 03): Scenic designer
School of Theater faculty Christopher Akerlind: Lighting designer
Edurne Fernandez (Theater MFA 19): Costume designer
School of Theater faculty Cristian Amigo: Sound designer
School of Theater Chris Swetcky: Production manager
School of Theater Rachel Scandling: Producer
Maria V. Oliveira: Stage manager
Rory James Leech (Theater BFA 23): Assistant director
Benny Pitt (Theater MFA 24): Assistant scenic designer
Cad Apostol (Theater MFA 24): Assistant lighting designer
Kenzie Caulfield (Theater BFA 24): Assistant lighting designer
Karen Ayala-Gaytan (Theater BFA 24): Assistant costume designer
Clare Marie Nemanich (Theater MFA 24): Assistant sound designer
Zoë Lappin (Theater BFA 24): Assistant video designer
Theo Anderson (Theater BFA 23): Assistant stage manager
Macy E. Kunke (Theater MFA 24): Assistant stage manager
Nicole Theep (Theater MFA 23): Associate production manager
Rui Xu (Theater MFA 21): Associate producer
Micha Espinosa: Dramaturg/voice coach
Cynthia Santos DeCure: Dialect Coach
Jessica Emmanuel (Dance BFA 06): Movement specialist
Emily Barasch: Intimacy coordinator
Tony Sancho: Fight choreographer/captain
Frances Gramaje: Physical therapist/movement specialist
School of Theater staff Patrick Smith: Props master
Natalie Ferguson (Theater MFA 22): Assistant props master
School of Theater staff Victor Sandoval Torres: Costume shop director
School of Theater staff Hunter Wells: Costume shop manager
School of Theater staff Grayson Basina: Master carpenter
School of Theater staff Kate DeWall: Master electrician
Alejandro Melendez: Head electrician
Alec Anderson-Carrasco (Theater MFA 24): Understudy (Nico, Angel)
Camila Ascencio (Theater BFA 18): Understudy (Ruby)
Cheryl Umaña: Understudy (Lourdes)
Oscar Camacho (Theater MFA 14): Understudy (Angel)
Armando McClain (Theater MFA 09): Understudy (Leyva/Ramiro)
Josephine Núñez (Theater MFA 23): Understudy (Yolie)
Jeannette Srinivasan (Theater BFA 23): Understudy (Letty)
REDCAT general admission is $25 and membership admission is $20. Admission for members of the CalArts community is $13.
---