Each year, summer experiences provide CalArts students important opportunities for growth and development, as artists and budding professionals. Working at an incredible array of companies and institutions across the arts, students develop their practices and create career and life connections.
These opportunities are forged through the Institute's schools, programs, faculty, and The Patty Disney Center for Life and Work at CalArts. The faculty's vast professional networks and the Center's relationships encompass leading creative companies, looking for CalArtians to join their teams as interns and freelancers.
This summer, CalArts students are learning and contributing in a range of roles across disciplines from Los Angeles to New York City. Here are just a few of their stories.
Luyao Zhang, Art MFA 23 (Graphic Design)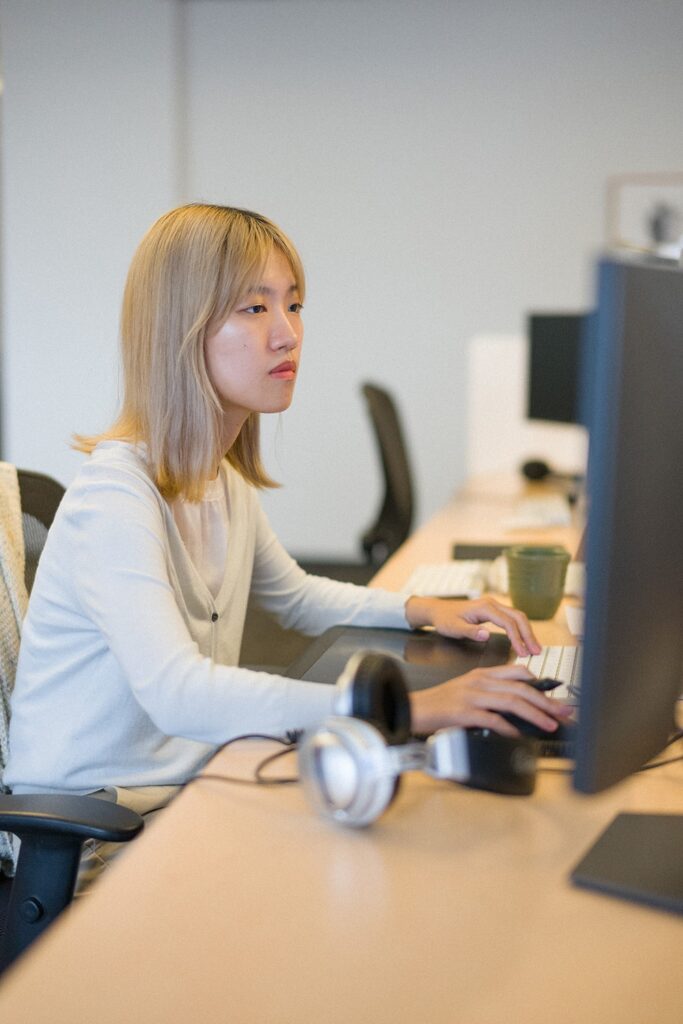 A student in the School of Art's Graphic Design Program, Zhang joined LA-based Watson Design Group, an award-winning creative boutique specializing in digital storytelling and online development. As the graphic design intern, she made her first foray into work for the film and entertainment industry, working on projects for Disney+ and A24.
For Disney+, she was responsible for designing assets for the streamer's Instagram and TikTok accounts promoting its various shows and movies. For A24, Zhang helped explore key art directions for Hazbin Hotel, an anime series to be released in early 2023.
"It's been interesting to learn how the ideation and visuals of such a wide range of pieces function for such an overarching client," said Zhang. "I have also come into contact with a new workflow: extracting elements and symbols from films, and using the language of graphic design to interpret the language of films."
Isabel Yi Jimenez, Art BFA 22 (Photography & Media)
This summer, Photography & Media student Jimenez took part in the Getty Marrow Undergraduate Internship, the Getty Foundation's nearly 30-year program aimed at encouraging greater diversity in professions related to museums and the visual arts.
Working at the LA multidisciplinary arts organization Clockshop, she conducted curatorial research in its cultural asset collection, and provided on-site event support for a host of annual programs and artist commissions, including the Listening by Moonrise series, the 2nd Annual Community and Unity People's Kite Festival, the Frogtown Block Party, and an upcoming major public arts commission with artist Sarah Rosalena.
"This was my first experience doing any sort of curatorial or programming work, and it was so interesting to see how an event comes to fruition," said Jimenez. "And I appreciated any exposure to the kinds of artists that Clockshop works with. They strike such a good balance between well-intentioned public installation and great conceptual art."
Robert Kelly, Dance MFA 22
Kelly, an MFA student in The Sharon Disney School of Dance, will spend 13 exciting days in Massachusetts as part of the Ann and Weston Hicks Choreography Fellowship at Jacob's Pillow. Located in the Berkshires, Jacob's Pillow is a 220-acre dance center, school, and performance space lauded worldwide as "the dance center of the nation" (The New York Times) and home to America's longest-running international dance festival.
During his fellowship, Kelly will hone and fine-tune his choreographic voice, and begin the process of creating a new work to bring back to Los Angeles. To prepare for the residency, which starts on Aug. 24, he has been studying the choreographers he plans on researching in the Jacob's Pillow archives, as well as those he'll be working with during his time there.
When asked what he's learning about his own practice, Kelly said, "I truly love collaboration. It is the cornerstone of my creative process. I enjoy the exchange of ideas, hearing other perspectives, and integrating what I learn into my work."
Emily Tschirhart, Music BFA 22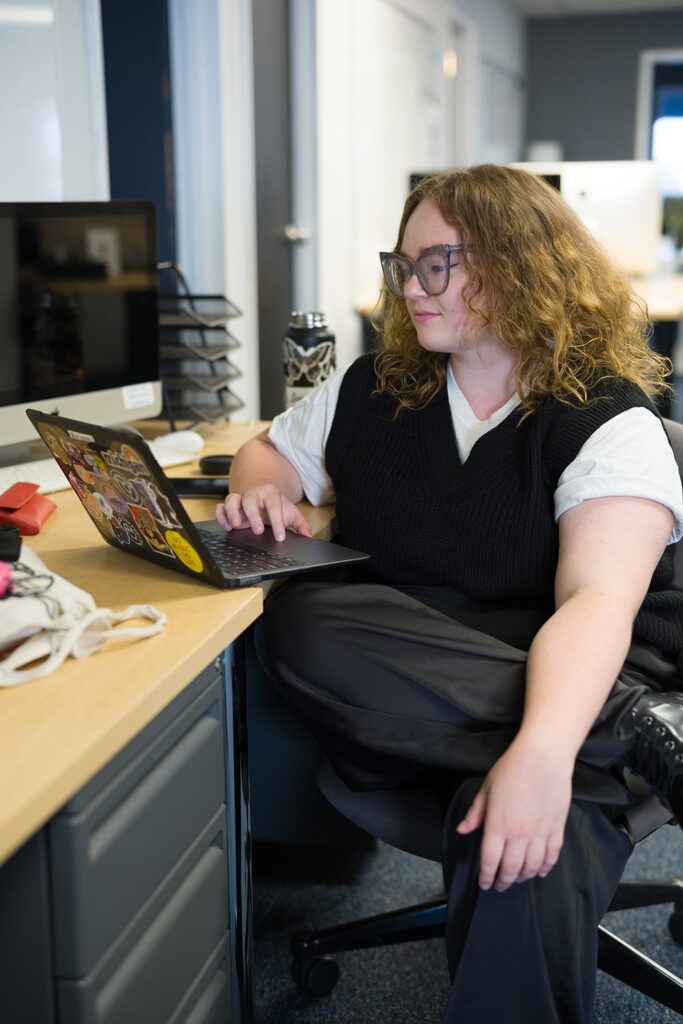 Music student Tschirhart is spending the summer as a content intern at Revry, a global LGBTQ-first streaming media network, in Los Angeles. In that role, she's been able to screen a lot of content for Revry, reviewing submissions via Squarespace and their Queer X festival, and work with the team to see what suits the platform. She's also helped run the Revry X Diesel event for House of Pride, worked with content ratings, and participated in sponsorship fulfillment.
Entering CalArts as a musician, Tschirhart says her interests have gravitated towards scoring films and mixed media, so she's valued learning about the production side of things this summer, as well as the inner workings of a streaming service, how music is licensed and acquired, how music videos are made, and what content gains popularity.
Tshirhart also says it's been great to work in a space that uplifts queerness. "I didn't realize how important it was to work with people who make you feel seen and heard."
D Morales, Film/Video BFA 24 (Character Animation)
Morales, a student in the School of Film/Video's Character Animation Program, is spending their summer working with Titmouse, an independent award-winning animation production company. As an artistic intern specializing in background animation and working remotely, Morales has been getting to know a lot about the animation pipeline.
During the program, they've been paired up with artist mentors on a current Titmouse production, sat in on production, design, and background meetings, been assigned a batch of work each week, received notes on that work, and implemented that feedback. Since Morales seeks to be a background designer someday, they've also been given specific background tests, getting them ready for the very work they seek to do. They've also gotten to witness new work as it comes together, such as The Hospital, a new sci-fi animated comedy series headed to Amazon Prime Video.
"TV production is really fast, so you have to stay on track and organize your pace, rewire whatever work method you have, and collaborate with all sorts of coworkers with different styles of animation and working," said Morales. "It definitely reassured me that this is what I want to do … It's still intimidating, but it's very reassuring that I'm having fun doing this."
Katherine Paez Froehlich, Theater MFA 23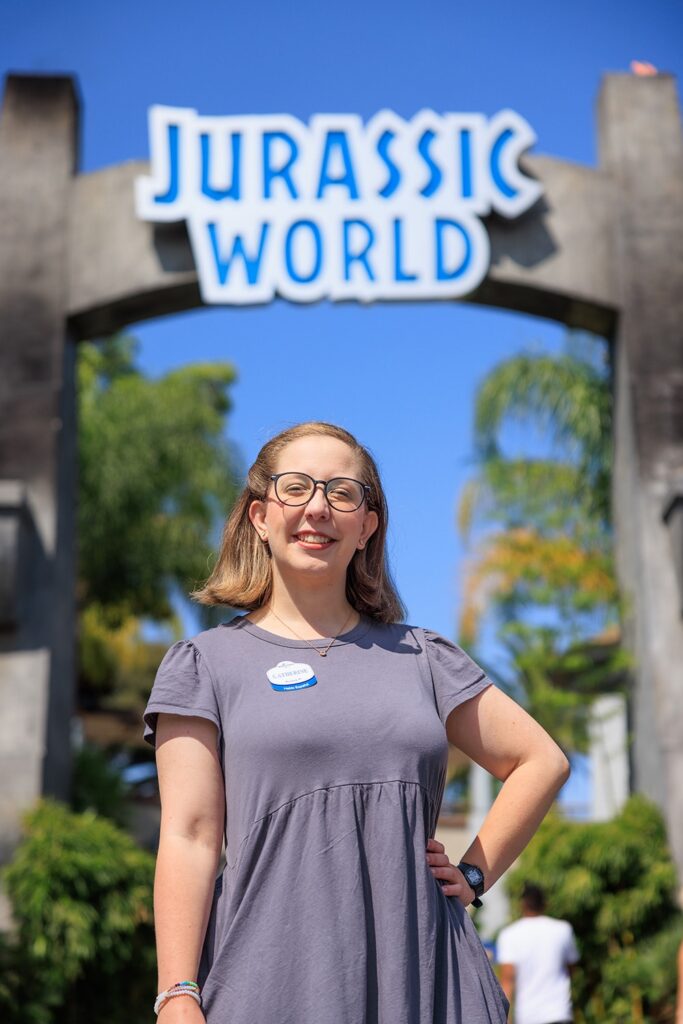 As an Operational Excellence intern at Universal Studios Hollywood this summer, Froehlich has been charged with supporting a team of leaders who are responsible for keeping guests and team members safe while at the theme park.
Much of her time has been spent creating training materials for the park's beloved annual Hollywood Horror Nights, and she had the exciting opportunity to see the original Jupiter's Claim sets from the film NOPE added to the world-famous Studio Tour on the day the movie premiered. 
Froehlich says this internship has solidified her desire to work in themed entertainment. Prior to coming to CalArts, she worked at Universal Studios Hollywood for five years. Starting at CalArts during the COVID-19 pandemic, she says she's been able to expand her knowledge in production management and producing at an academic level, skills that translate to both theatrical and themed entertainment.
"I'm learning what great leadership looks like. The folks I'm working with are passionate about making sure all team members feel supported and have their needs met and they really want to grow the next generation of leaders," said Froehlich. With an ultimate goal of serving as a theme park executive, she takes a similar approach. As a more-seasoned member of her cohort, she has the experience and passion to make sure people have everything they need to accomplish their tasks, so she's been able to help others—both at Universal Studios Hollywood and CalArts—find their way.
Shiqi Cao, Art MFA 23 (Graphic Design)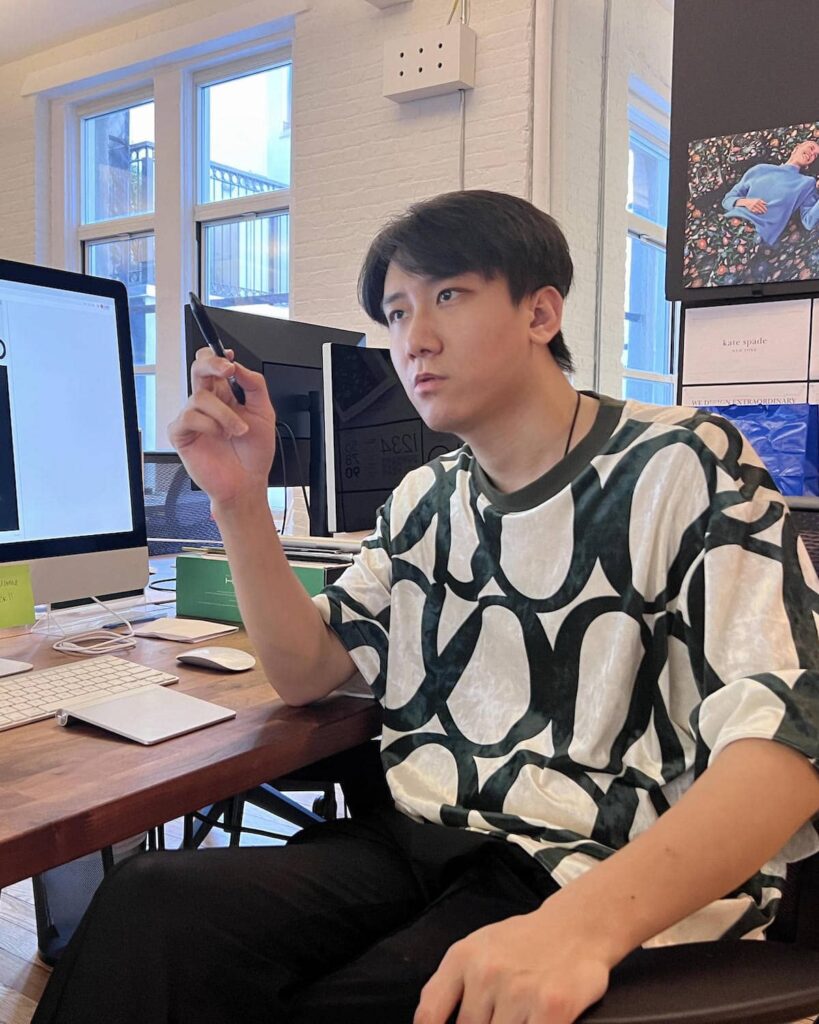 This summer, Graphic Design student Cao is serving as a design intern at Sylvain, a New York-based strategy and design consultancy.
In that role, his work has centered around design and strategy for the establishment of new brand identity systems or the reworking of existing brands in a variety of categories. He's also been able to explore other unique forms of design work, including curating the public art space of a brand launch party, and more.
Originally from Beijing, Cao says the experience has taught him so much about the American design market and how a design studio runs, particularly in the US. It has also allowed him to understand more systematically the full process of brand design, from brand audit to identity exploration and development, identity guidelines, the life cycle of a project, how design proposals and project reports should be prepared for a client, and more.
"I learned how strategy, a word derived from the military, is applied to design," said Cao. "Actually, many times, we ignore the help of strategy for design, or the leadership of strategy for design, rather rushing to carry out concept and design. In fact, only when the strategic analysis is correct, can the design work, and only when the design and the strategy are effectively combined can the results be multiplied with half the effort."
---