Boundary-pushing artworks are placed in dialog in Larry Bell & John Chamberlain, a joint exhibition of works by the pioneering artists and longtime friends running now through Sunday, Oct. 2 at Hauser & Wirth in Los Angeles.
Bell, a Chouinard alum (59), met Chamberlain in September 1962 at the Ferus Gallery in Los Angeles, and they forged a close friendship based on their shared interest in cross-pollinating ideas and technical innovation. After several years of shuttling between creative circles in both coasts, the duo began working side by side in Los Angeles, where they "pushed one another to expand the material and formal possibilities of their respective practices." More about the exhibition from Hauser & Wirth:
'Larry Bell & John Chamberlain' is the first exhibition to focus on this period of reciprocity and explosive creativity, bringing together seminal works developed by the two artists via the industrial technologies available after World War II. In the '60s, Los Angeles was the center of the aeronautics industry that had burgeoned during the war, and Bell was one of the first artists to apply its commercial manufacturing processes to his work. One of the signatures of his artistic approach is its use of a vacuum deposition chamber, which Bell first acquired in the late '60s. Called 'The Tank,' this tool permitted him to coat sheet glass in specific ways that alter how absorbent, transmissive, or reflective it appears to the eye. With the aid of 'The Tank,' both Bell and Chamberlain explored the possibilities of form, materiality, and color – experiments that resulted in the exceptional artworks on view in the exhibition.
On view is a range of works by both artists, including an array of Bell's coated glass cubes edged with chrome, including Orange Blue (1969/2022) and Golden (1969/2022). The surface treatments were achieved by a thermal evaporation technology developed for optics and aeronautics. The technique, considered cutting edge in the 60s, remains a hallmark of Bell's work to this day. The cubes are suitably placed in dialog with Chamberlain's iridescent polymer resin sculptures, which represented his shift from working with steel and similar materials. The irregular shapes were achieved by exposing plexiglass boxes to varying degrees of heat, causing them to briefly melt. Chamberlain then annealed them for up to 12 hours, after which he applied a mineral coating with a vacuum tube to achieve the reflective finish.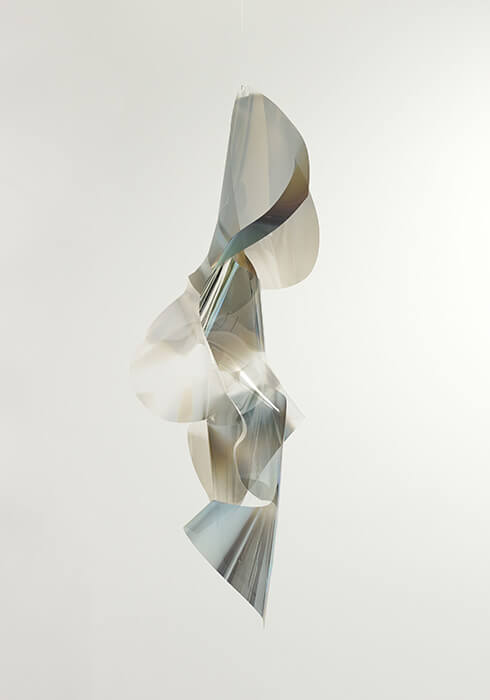 Also on display are a rare selection of Bell's paper works and Chamberlain's furniture-inspired installations.
Celebrated as one of the most influential and renowned artists to emerge from LA's 1960s art scene, Bell's oeuvre encompasses painting, sculpture, works on paper, and furniture design. He is arguably best known for his innovative use of commercial industrial processes in his studio, as well as his groundbreaking use of glass and light in sculpture. He once noted, "Although we tend to think of glass as a window, it is a solid liquid that has at once three distinctive qualities: it reflects light, it absorbs light, and it transmits light all at the same time."
Chamberlain, who passed away in 2011, earned early acclaim for his gnarled and tempered metal sculptures fashioned from automobile parts. These works, which established him as one of the preeminent American artists to "determine color as a natural component of abstract sculpture," were the foundation for a decades-long career in which he boldly sought the expressive properties of myriad unusual materials.
---