In addition to music headliners Billie Eilish, Harry Styles, Swedish House Mafia, and The Weeknd, the 2022 Coachella Music and Arts Festival in Indio, CA, also presents a robust slate of 11 immersive art installations, including Circular Dimensions x Microscape by Cristopher Cichoki (Art BFA 2001). A native of Coachella Valley, this marks Cichocki's debut installation at the festival.
With roots in biomorphic art, Cichocki's multidisciplinary art practice revolves around cycles of decay and renewal, integrating humankind, the natural world, and industrial mutation through painting, land art, sound art, fluorescence, and natural science. In his self-defined "New Earth Art," Cichocki tackles the toxic global environment facing our planet in a site-responsive manner, playing with opposites and using both organic and synthetic materials and sounds. His original compositions are rooted in psychedelia, IDM, musique concrète, glitch, and dark ambience. 
Circular Dimensions x Microscape, is a five-story tall audio-visual art work, consisting of 25,000 feet of reclaimed irrigation PVC tubes and cast resin aloe vera. The work explores Cichocki's investigation of water and the history of the desert. In the immersive bandshell-pavilion laboratory at Coachella, scientists and artists can create video paintings through water, salt, barnacles, and algae projections. The soundscape, designed in collaboration with Herb Alpert School of Music faculty Micaela Tobin (Music MFA 16), resonates field recordings and industrial rhythms through circular tunnels. Circular Dimensions is showcased traditionally within the framework of live concerts and multi-sensory installation environments.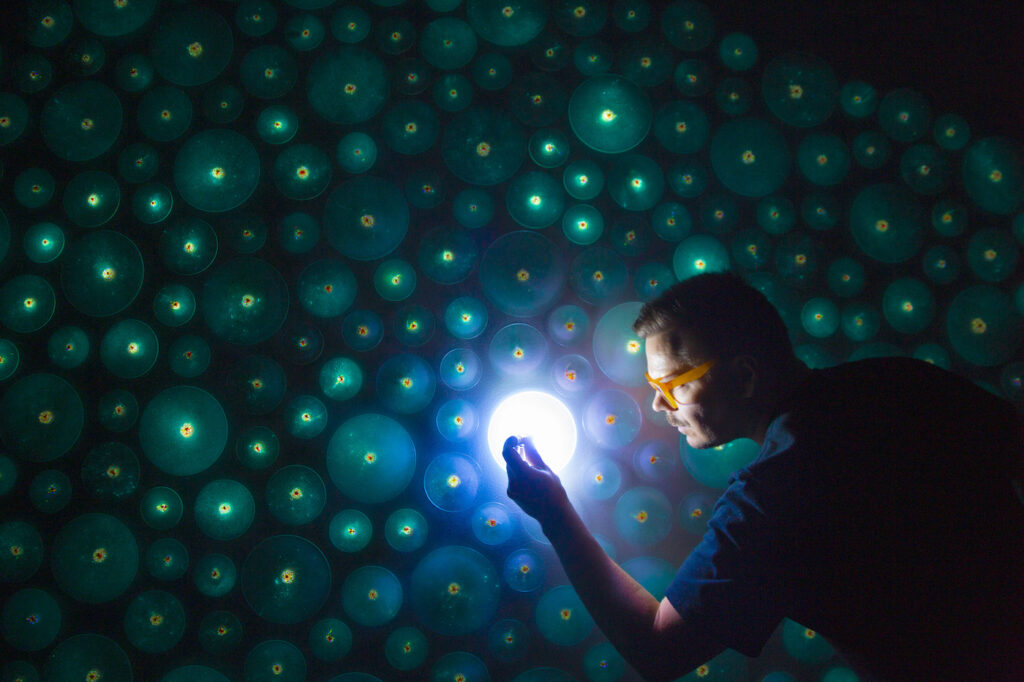 Cichocki's installation, along with those of international artists Architensions, Kiki Van Eijk, Los Dos, Estudio Normal, Oana Stanescu, NEWSUBSTANCE, Do LaB, and Robert Bose, all tie into "themes and ideas surrounding connectedness and our environment…through shared explorations of scale, material, color, sound and light," noted the press release.  
Cichocki's work has been seen exhibited internationally at the Museum of Image & Sound, Rio de Janeiro;  Desert Daze, Biennale Urbana, Venice, Italy; Casa França Brasil; and the Museum of Moving Image, New York. An alum of both CalArts and Yale Norfolk School of Art, his work is on permanent display at the J. Paul Getty Museum, Lancaster Museum of Art, and the Palm Springs Art Museum.
In collaboration with Fondation LAccolade – Institute de France, Cichocki created THE ELEMENTAL contemporary arts center in Palm Springs, dedicated to studying land art, bioart, and sound art.
—Ishika Muchhal
---