On Saturday, April 16, the Museum of Modern Art (MoMA) in New York City presents Our Selves: Photographs by Women Artists from Helen Kornblum, a survey of photographs by female artists from the last century. Among the 90 photographic works on display are those by three CalArtians: School of Art faculty Sharon Lockhart and alums Carrie Mae Weems (Art BFA 81) and Catherine Opie (Art MFA 88).
Lockhart will also join a virtual panel discussion on Thursday, April 14 at 1:30 pm titled What is a Feminist Picture? prior to the exhibition's opening.
The exhibition works belong to MoMA's collection, courtesy of a gift from collector Helen Kornblum in 2021. Our Selves demonstrates how the "histories of feminism and photography have been intertwined," presenting the works from an intersectional and contemporary feminist perspective rather than chronologically. The exhibition is organized by Roxana Marcoci, The David Dechman Senior Curator, with Dana Ostrander and Caitlin Ryan, Curatorial Assistants, Department of Photography at MoMA.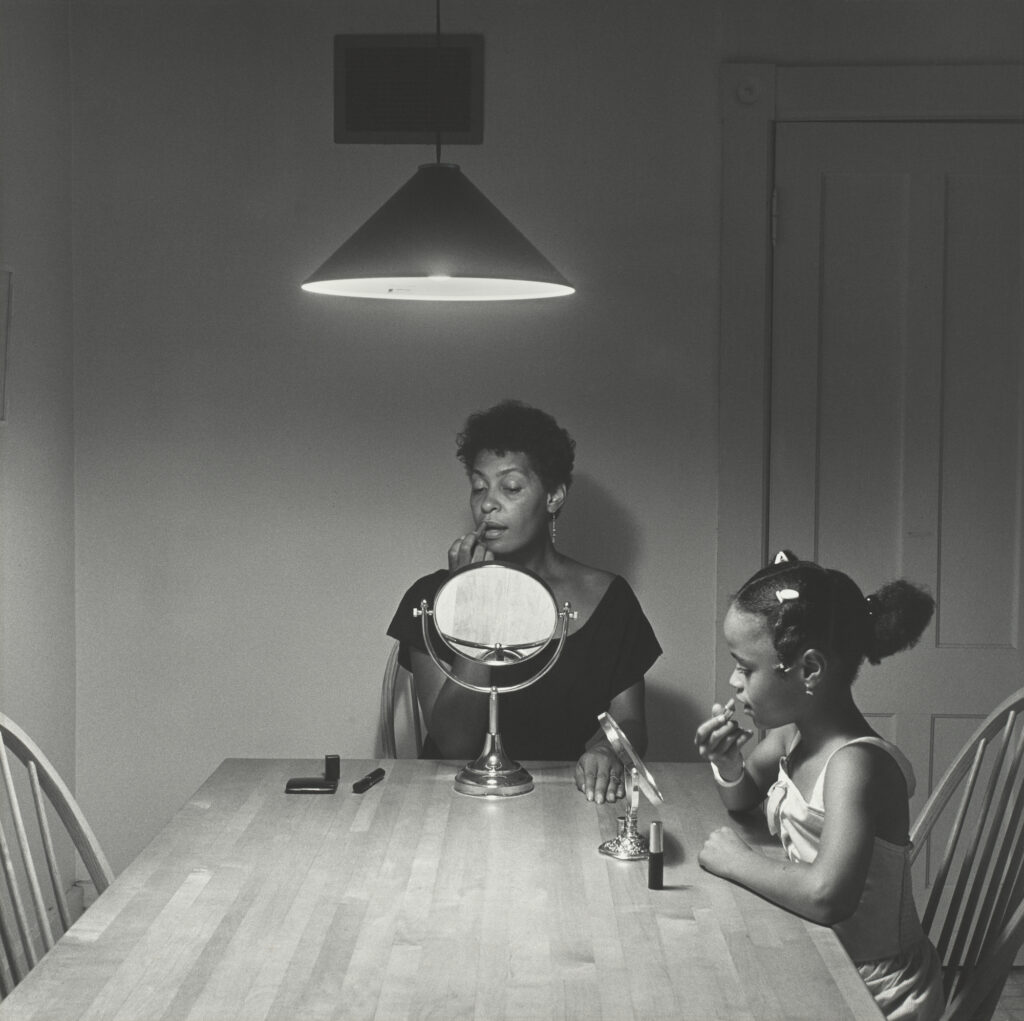 More about the exhibition from the official press release:
African-diasporic, queer, and postcolonial/Indigenous artists have brought new mindsets and questions to the canonical narratives of art history. Our Selves will reexamine a host of topics, countering racial and gender invisibility, systemic racial injustice, and colonialism, through a diversity of photographic practices, including portraiture, photojournalism, social documentary, advertising, avant-garde experimentation, and conceptual photography.
Weems' gelatin silver print Untitled (Woman and Daughter with Makeup) (1990) is among the collection, as well as Opie's silver dye beach print Angela Scheirl (1993), and Lockhart's chromogenic print Untitled (2010).
The What is a Feminist Picture? lecture takes place as part of MoMA's Forums on Contemporary Photography platform. Lockhart joins several of the artists whose works are included in Our Selves to discuss how it invites viewers to engage with the exhibition from the framework of feminist theory, rather than considering it purely as a historical survey.
---