In March, performer-composer MFA Rachel Epperly presented her mid-residency recital Learning to See at CalArts' The Wild Beast. The recital featured music and poetry she wrote and composed for her voice, in addition to using movement, fabric, electronic voice-processing, and playing the piano and accordion. Learning to See also featured CalArts music MFA students Michael Echaniz, MaryKate Glenn, and Margo Harms.
Anne LeBaron, music faculty at CalArts, described her recital as "exceptional" and a "mesmerizing one woman show."
"The influence of pansori on Rachel's singing style is remarkable, and she has adapted it into her highly individualistic way of vocalizing," LeBaron said. "She has an enormous range and exquisite sensitivity to a spectrum of timbres. She is also a gifted composer with solid training."
Epperly's training and research in pansori, a Korean musical storytelling style, can be credited to her studies of the artform as a Fulbright Research Grantee for 10 months in South Korea from 2019 to 2020. Pansori consists of a singer, accompanied by a drummer, who narrates epics with a guttural vocal technique.
"During my grant, I studied pansori privately with pansori performer-composer Park In Hye and began my original one-woman opera, Spider Lily, which is informed by the vocal and storytelling technique of pansori," Epperly said. "I was enamored with the dynamic pansori community in Korea, specifically the community of female pansori artists who reinhabit the genre's patriarchal narratives to reflect their contemporary experiences, aesthetics, and emotions."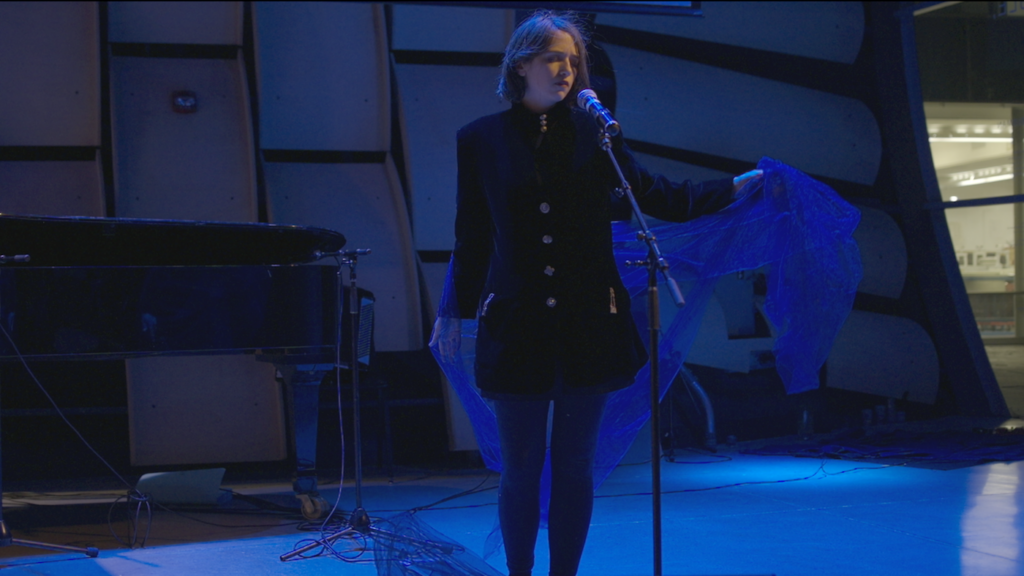 Traveling to her undergraduate alma mater, the University of Michigan, two days after her recital, Epperly attended a reunion there for Fulbright alums who received the University's "Sang Yong Nam Award" for their commitment to Korean studies. At the reunion at Nam Center for Korean Studies, she performed an excerpt of an opera she had worked on during her Fulbright experience.
"I was honored by the feedback of my performance," Epperly said. "Although the song is experimental, it resonated with Korean studies professors, administrators, and donors due to its incorporation of pansori with my original voice and aesthetic. I am grateful to have had the opportunity to present part of my opera to two different communities within the span of one week."
Epperly's artistic practice as a composer, improviser, and experimental vocalist centers on the idea of posing personal, complex questions about gender, queerness, and nature through music and finding deeper vulnerability with each work. Her style draws from her classical training along with experimental pop, pansori, movement, text, and narrative.
With multiple releases on SoundCloud, her upcoming Spider Lily follows a restricted empress who sails to a spider lily in the middle of the ocean in order to achieve liberation.
"As she discovers strategies for combining notation with a more improvisatory approach, she will continue to develop her distinctive voice as a composer as she completes her opera, Spider Lily, which will be performed in the Spring of 2023," LeBaron said.
Along with the accolades of her Fulbright grant, Epperly is the youngest person to ever receive a commission from the Grand Rapids Symphony, and she was recognized as a composition fellowship at the Gabriela Lena Frank Academy of Music. 
—by Ishika Muchhal
---