On Wednesday, March 9, Beyond Opera Collective performs as part of Cal State University Fullerton's New Music Festival. The performance features two works from co-director Anne LeBaron, an experimental composer, harpist, and faculty member of The Herb Alpert School of Music at CalArts. She shares the concert with Collective co-director Jack Van Zandt, a Los Angeles- and Ireland-based composer of concert music, television, film, and multimedia installations.
A harpist specializing in improvisation with the LA-based Present Quartet, LeBaron's compositions include more than seven operas that have been performed worldwide, with more currently in development. Along with teaching in the Composition and Experimental Sound Practices Program at CalArts, LeBaron has also published writings on subjects like hyperopera, surrealism, and the post-truth era.
The 21st edition of CSUF's New Music Festival, themed "Coming Together: Communities, Collaboration, and Collectives," includes three works, the first of which is Radiant Depth Unfolded – Five Settings of Rumi. Commissioned by SongFest and the Sorel Organization, the piece features music by LeBaron and poems by Rumi, performed by vocalists Laura Bohn, a current Music BFA, David Castillo, and pianist Lisa Sylvester (former faculty of The Herb Alpert School of Music at CalArts).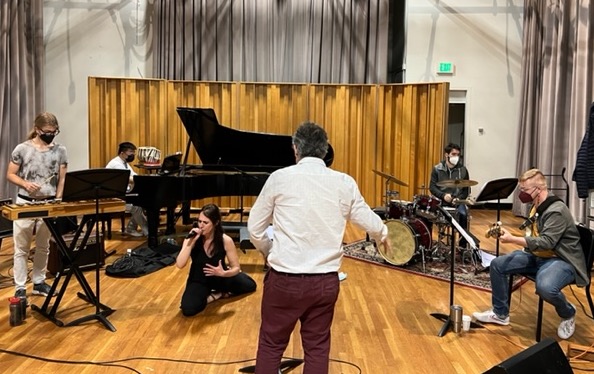 The concert also features Dish, a cabaret-esque fragmented ode to the sexual battleground, with music by LeBaron, libretto by Jessica Hagedorn, and conducted by CalArts music faculty Marc Lowenstein. The piece features Bohn, CalArts music faculty Richard An (Music MFA 19), Miller Wrenn (Music MFA 17), Ephraim Schulz-wackerbarth, Nigel Deane (Music MFA 18), and LeBaron.
Lastly is The New Frontier, An Atomic Age Jazz Opera, a concert excerpt performance with music by Van Zandt and libretto by Jill Freeman. Musicians include Stacey Fraser, Nadia Shpachenko, Brian Walsh, Kye Palmer, Derek Tywoniuk, Jordan Curcuruto, Katie Eikam, and John Kennedy.
Tickets for the concert are available for $10.
—by Ishiha Muchhal
---