As the CalArts 2021 MFA postgraduate project re:connections wraps the exhibition segment at Tin Flats in Los Angeles, the cohort releases two new publications: an exhibition catalog and book.
The exhibition catalog is a 24-page saddle-stitched publication designed by Aimée Dopa (Art MFA 21), inspired by the graphic identity and exhibition website by Amy Fang. The two-color riso-printed, editioned catalog features work by 18 artists, as well as new essays by re:connections curator Audrey Min and Courtney Loi (Critical Studies MA 21).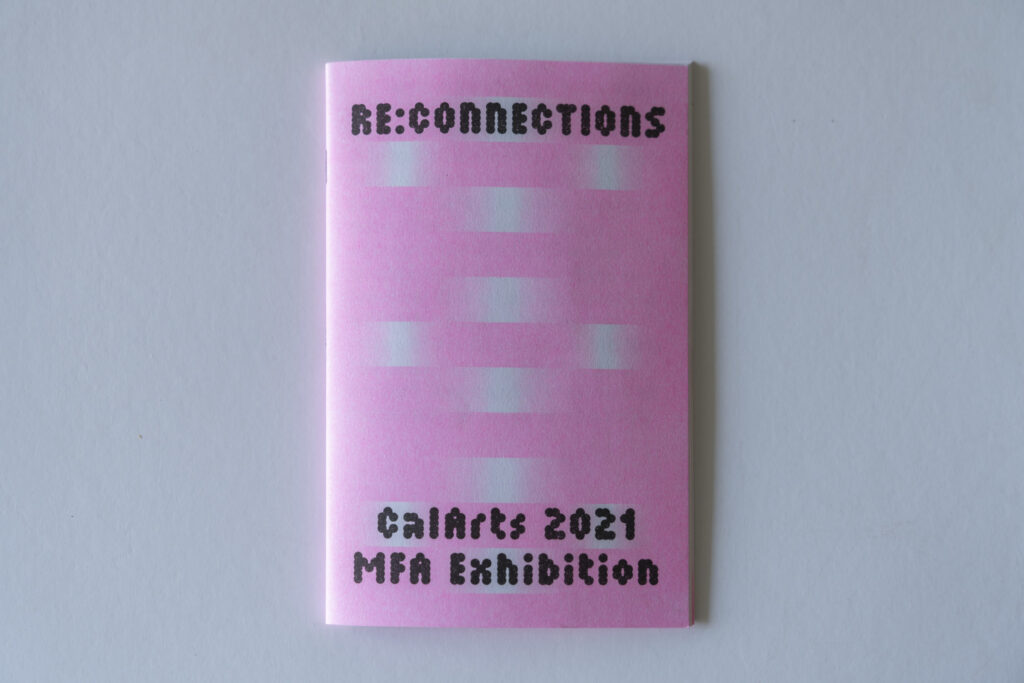 Editioned copies can be picked up at Tin Flats Los Angeles during regular operating hours (Thursday-Sunday, 12-6 pm PST), as well as at the exhibition's closing reception on Monday, Aug. 30.
The re:connections book is an 8.75 x 8.75", 96-page publication with exposed binding and a foil-finished soft cover. The book features an introduction by Tatum Howey (Critical Studies MFA 21) and work from each of the 19 MFA graduates, as well as individual responses to the prompt—to reflect on their individual practices in the past two years—with two spreads each, as well as in the book's index.
The publication's concept, design, editing, and sequencing were collaboratively realized by the exhibition's executive committee, including Aimée Dominguez, Amanda Bauer, Lois Bielefeld, Fía Benitez, Kendra de la Moriniere, Audrey Min, Yaozhi Liu, Ruoyi Shi, Juan Herrera, and Caleb Craig, with guest editors Courtney Loi (Critical Studies MA 21) and School of Art visiting faculty Zoe Strauss.
This editioned book for the 2021 cohort is printed by Conveyor Editions. It will be available online with a first edition of 100 units. Strauss will co-host the artist book launch in the fall. Sign up to receive news about the forthcoming publication here.
The re:connections exhibition was also recently reported by Shannon Waldman for Hyerpallergic, highlighting the work of Art MFAs from both CalArts and CalArts and UC Irvine (UCI):
The inescapability of the pandemic infiltrates each gesture and concern of the recent MFAs, and both cohorts are equally interested in standing witness to the precarious present and cataloguing what remains. In re:connections, curator Audrey Min stresses the artists' interests in personal archives and collective histories.
Read the full article at Hyperallergic.
---